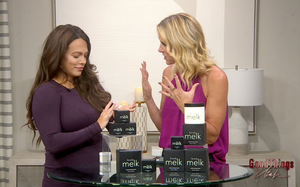 Face and Body Melk soothe, soften and nourish your skin from the dry, harsh elements
Your skin is thirsty, so give it a drink!
SALT LAKE CITY, Utah (Good Things Utah) – With the change of seasons happening, winter is coming and so is dry skin season. You can defend your skins with Face and Body Melk by Melkit.
Face and Body Melk could very well be your most essential daily skincare, ever! Made with natural ingredients and essential oils to hydrate and rejuvenate your skin daily, Melkit's skincare products could help soothe and smooth your skin through dry, harsh fall and winter weather.
Melkit's Face and Body Melk has a luxurious formula that combines the power of nature and advanced scientific breakthroughs to create a product that is truly magical and gentle on your skin – using natural and clean ingredients that are paraben-free, sulfate-free, cruelty-free, gluten-free, vegan and have no synthetic dyes or fragrances.
https://www.abc4.com/gtu/face-and-body-melk-soothe-soften-and-nourish-your-skin-from-the-dry-harsh-elements/
---