2oz Face Cream

Unlock Your Best Skin with Our Men's Facial Cream

Elevate your skincare routine with our specially formulated Men's Facial Cream. Designed to address the unique needs of men's skin, this exceptional blend of natural essential oils provides an array of benefits that help you look and feel your best.

Key Ingredients:

Frankincense: Known for its anti-aging properties, Frankincense essential oil helps reduce the appearance of fine lines and wrinkles, promoting firmness and a youthful complexion.

Myrrh: Myrrh essential oil supports the healing of minor skin irritations, perfect for those occasional nicks and scrapes.

Sandalwood: Offering deep hydration, Sandalwood essential oil ensures your skin remains soft and supple, even in the harshest conditions.

Lavender: Lavender essential oil helps soothe post-shave irritation, keeping razor burn at bay and your skin calm.

Helichrysum: This essential oil offers anti-inflammatory benefits, ideal for controlling blemishes and reducing skin redness.
Order Now and Embrace the Melkit Difference!

Note: Individual results may vary. Always perform a patch test before using any new skincare product. If irritation occurs, discontinue use.
---
WHAT IT IS
"Clears skin from breakouts, redness, irritation, and unevenness. Highly effective and worth the cost!"
"Sinks into the skin and provides hydration and refreshment. It leaves the skin feeling soft to the touch. Has provided a noticeable improvement in the skin's appearance."
These essential oils have various skincare benefits for men, such as reducing the signs of aging, providing deep hydration, soothing post-shave irritation, combating acne, and supporting the healing of minor skin irritations. The face cream is formulated to address the specific skincare needs of men, helping them achieve healthier and more youthful-looking skin. It offers a holistic approach to skincare, using the natural properties of essential oils to create a product that is both effective and safe for daily use.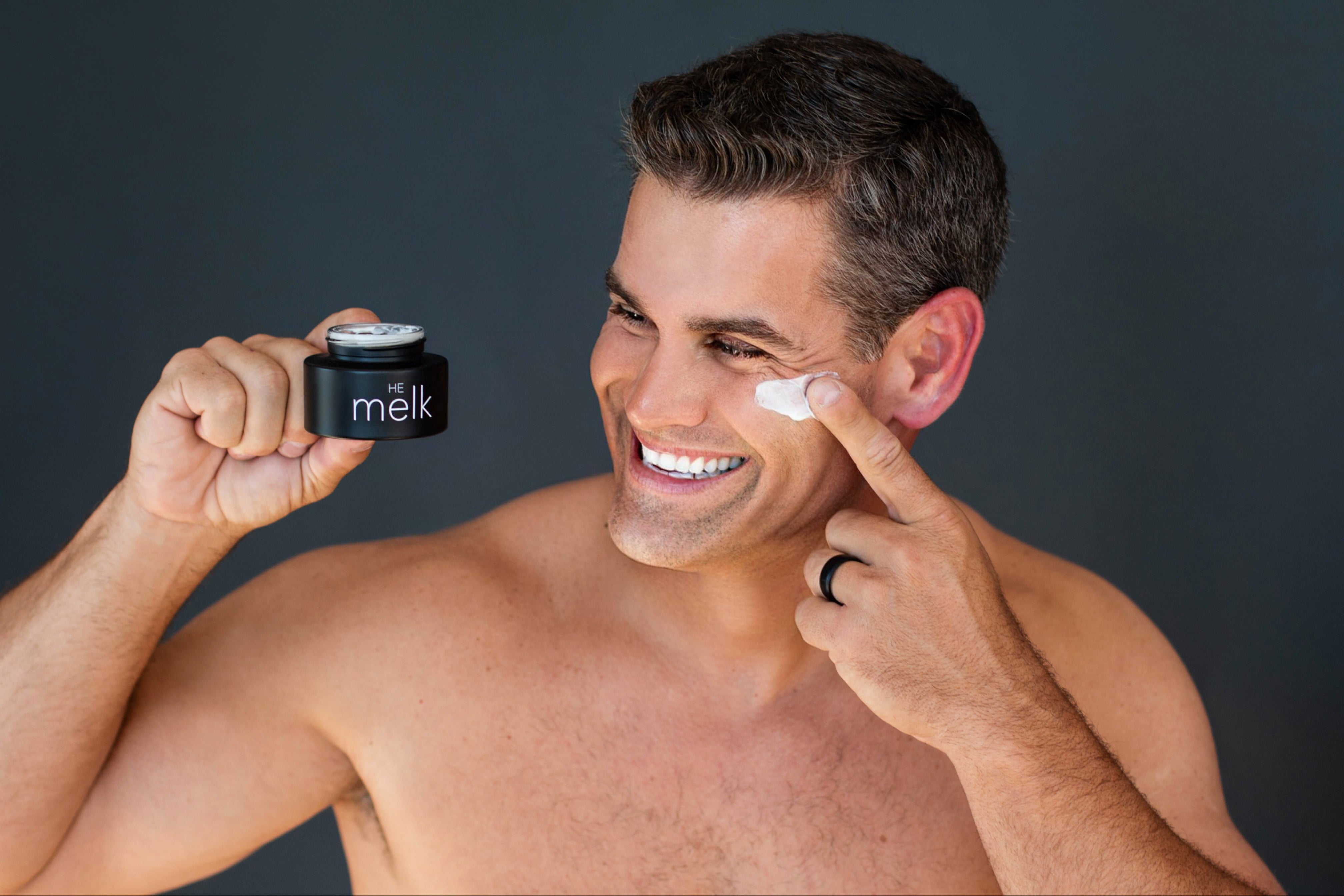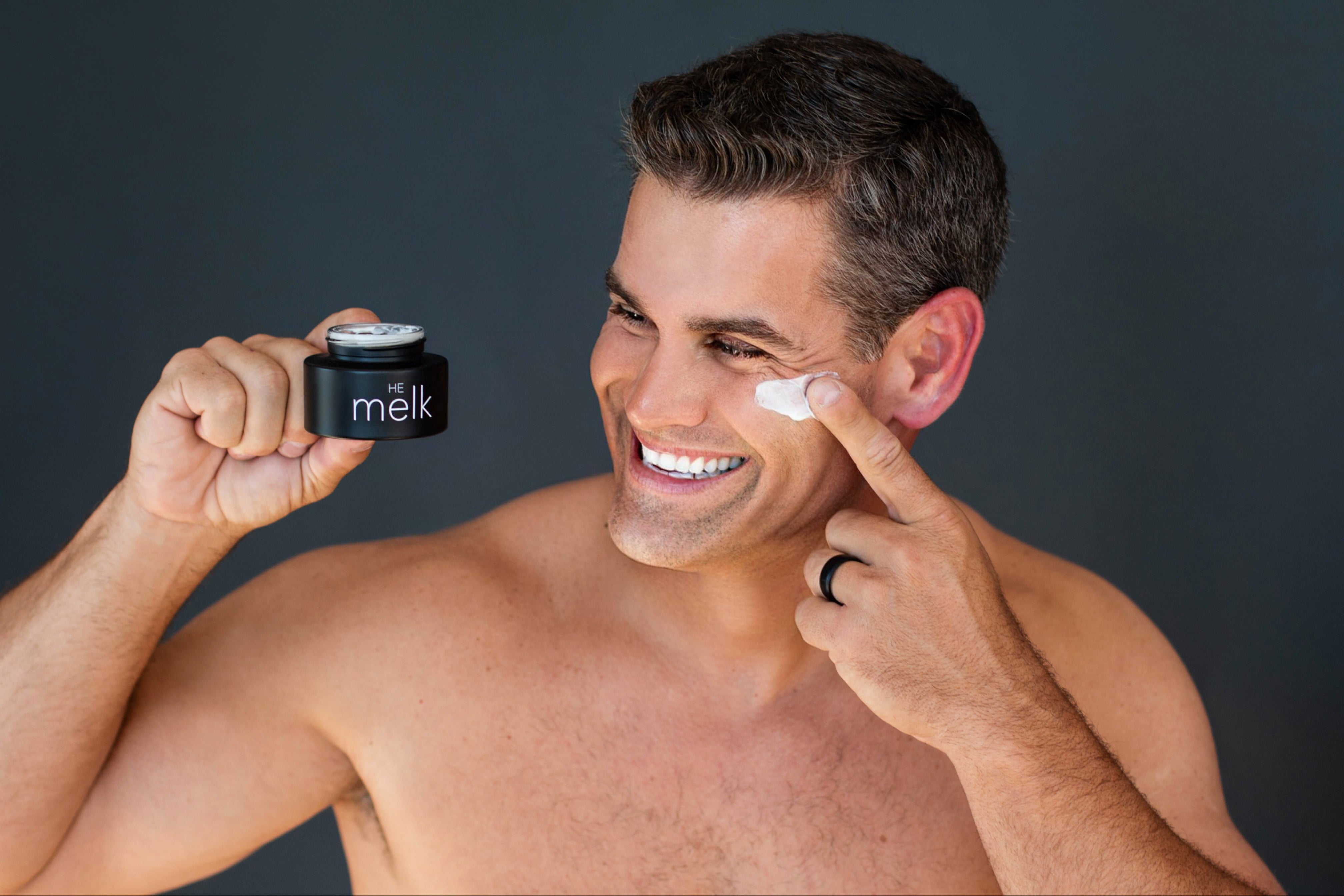 WHAT IT DOES
Anti-Aging:: Rediscover your youthful skin with the powerful anti-aging properties of Frankincense.
Deep Hydration: Sandalwood and Myrrh ensure your skin stays moisturized and well-nourished..
Razor Burn Relief: Lavender soothes post-shave irritation, making it an essential addition to your daily routine.
Acne Control: Say goodbye to blemishes with the antimicrobial properties of Sandalwood and Helichrysum..
Redness and Irritation: Lavender helps reduce redness and irritation, providing a soothing experience.
Wound Healing: Myrrh aids in the healing of minor cuts, scrapes, and minor skin injuries.
Facial Hair Care: Soften and condition your beard with Sandalwood, ensuring a neat and comfortable look.
Rapid Cold Sore Relief: Cold sores? Body Melk's Sandalwood and Hylichrsium serum accelerates the healing process, reducing discomfort and promoting recovery.
WHY WE LOVE IT
All these natural powerhouse essential oils work together to give you your best skin ever. With natural properties to fight, balance, and maintain healthy glowing skin. These essential oils will help you achieve beautiful, dewy, and soft skin. We like to call it, that melky glow.
anti-aging benefits
superfood ingredients nourish and quench skin
anti-inflammatory tones and soothes skin
antioxidants protect against pollution
ultra-hydrating helps to promote and maintain healthy skin
natural & clean ingredients| paraben-free | sultate-free | crueity-free| gluten-free | vegan | no synthetic dyes or fragrances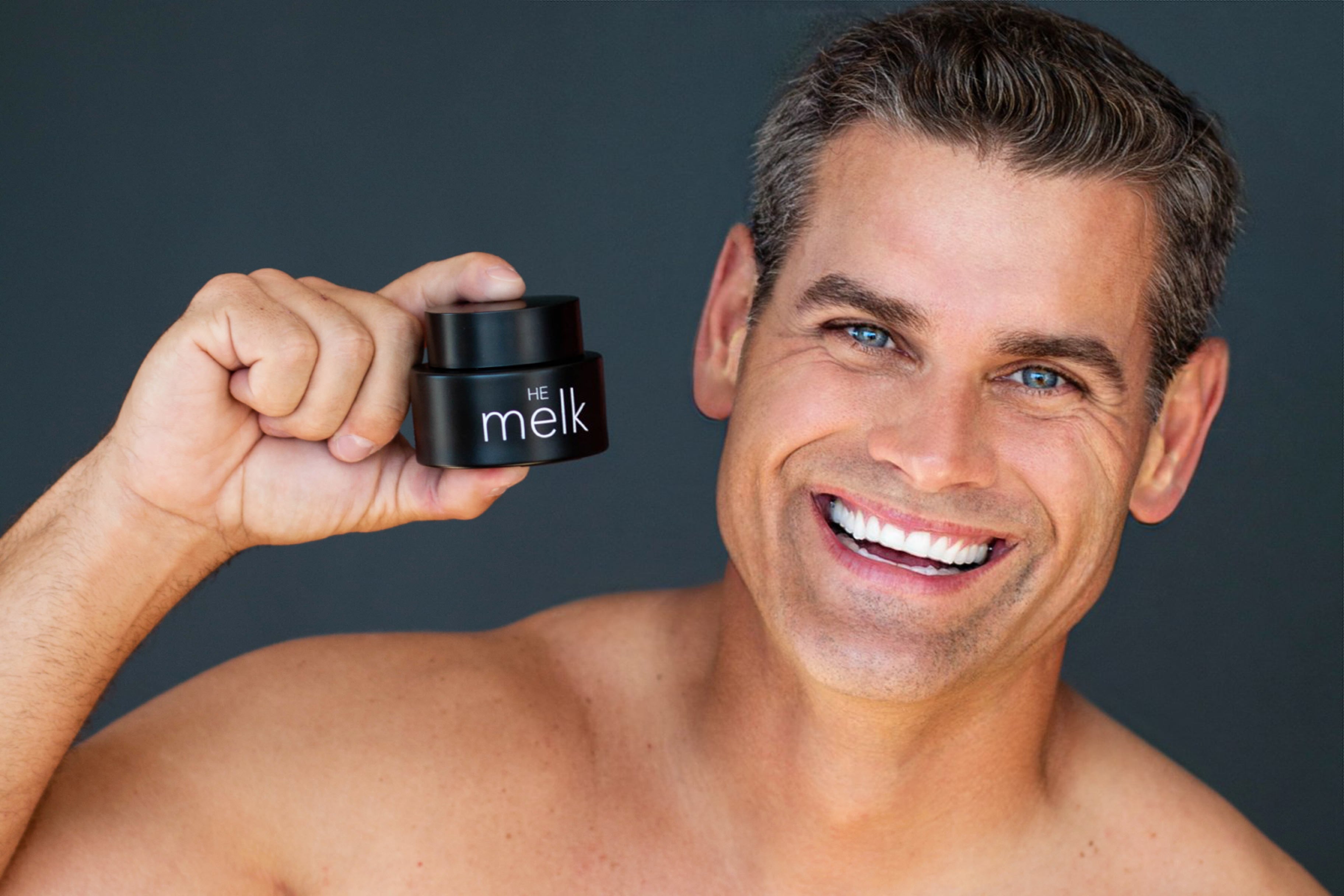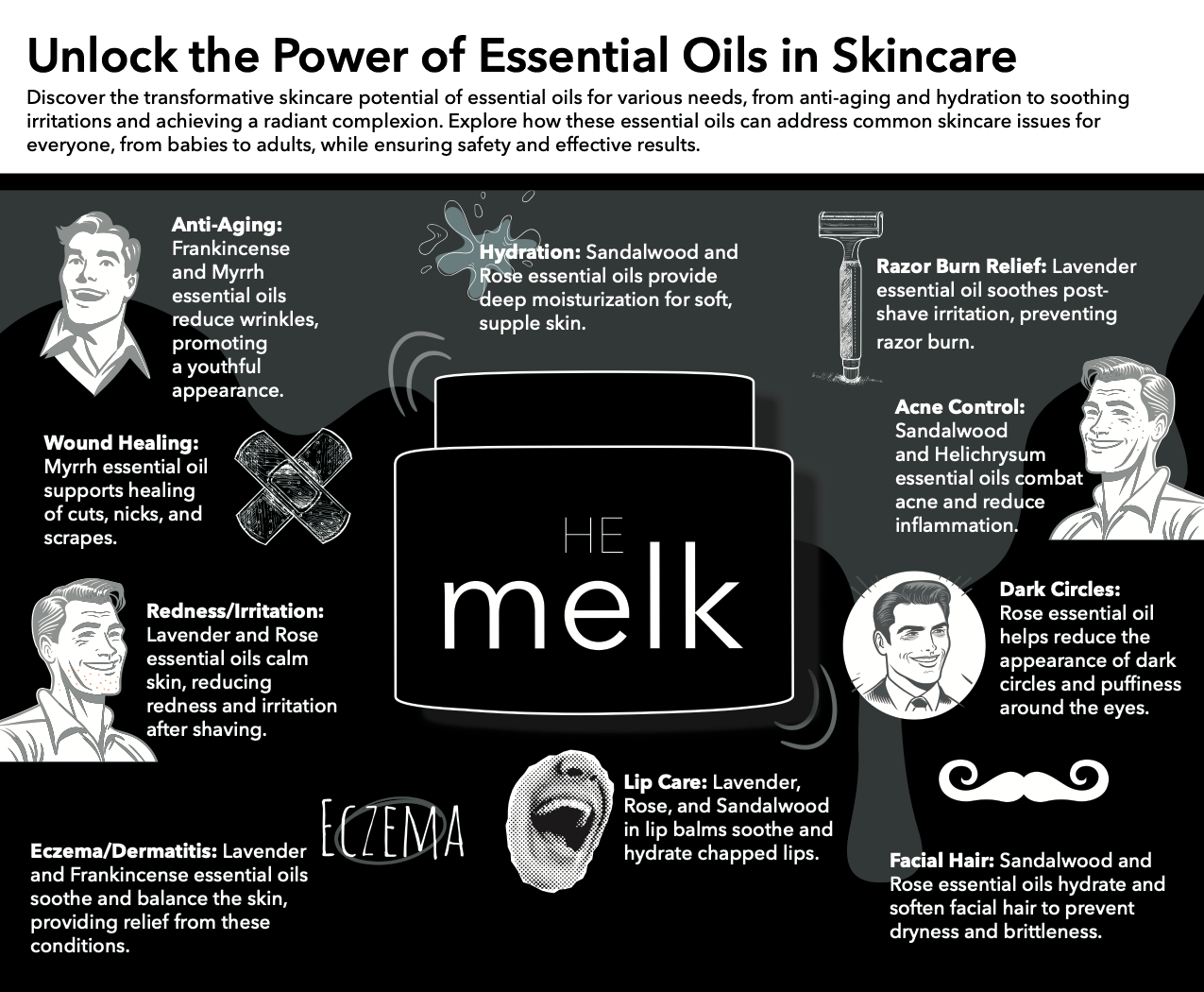 Which skin type is it good for?
What it is formulated without:

Normal
Oily
Combination
Dry
Sensitive

Parabens
Sulfates
Phthalates
How To Use
Ingredients
Reviews
How to use
A little goes a long way. Use morning and night on clean skin. After shaving especially!
Water
Glycerin
Olea Europaea (Olive) Fruit Oil
Rosa Canina Fruit Oil
Stearic Acid
Prunus Amygdalus Dulcis (Sweet Almond) Oil
Cetyl Palmitate
Butyrospermum Parkii (Shea) Butter
Cetearyl Alcohol
Vitis Vinifera (Grape) Seed Oil
Cetyl Alcohol
Mangifera Indica (Mango) Seed Butter
Phenoxyethanol
Tocopheryl Acetate
Tetrahexyldecyl Ascorbate
Cera Alba (Beeswax)
Lavandula Angustifolia (Lavender) Flower Oil
Boswellia Serrata (Frankincense) Oil
Aloe Barbadensis Juice
Santalum Spicatum (Sandalwood) Wood Oil
Rosa Damascena Flower Oil
Commiphora Myrrha Oil
Helichrysum Italicum Oil
Fractionated Coconut Oil