2oz Skin Cream, AIRLESS PUMP CONTAINER

Nurturing Your Little Ones: Our Baby and Kids Skincare Cream
Our Baby and Kids Skincare Cream is a gentle and caring blend of natural essential oils, meticulously chosen to provide your little ones with the tender care they deserve. We understand the unique needs of your children's skin, and that's why we've thoughtfully selected essential oils known for their nurturing properties.
Key Ingredients:
Rose Essential Oil: Known for its moisturizing properties, Rose essential oil hydrates and nourishes your baby's skin, leaving it soft and protected.
Myrrh Essential Oil: Myrrh is a natural choice for supporting the healing of minor cuts, scrapes, and skin irritations, ensuring your child's comfort.
Frankincense Essential Oil: Frankincense essential oil helps promote skin health and offers a gentle solution for maintaining your child's radiant complexion.
Sandalwood Essential Oil: Sandalwood is your answer for deep hydration, ensuring your child's skin remains soft and supple.
Helichrysum Essential Oil: Helichrysum is renowned for its anti-inflammatory benefits, making it perfect for soothing skin irritations and reducing redness.
Order Now and Embrace the Melkit Difference!
---
WHAT IT IS
"Clears skin from breakouts, redness, irritation, and unevenness. Highly effective and worth the cost!"
"Sinks into the skin and provides hydration and refreshment. It leaves the skin feeling soft to the touch. Has provided a noticeable improvement in the skin's appearance."
It's formulated with a blend of natural essential oils, including Lavender, Rose, Myrrh, Frankincense, Sandalwood, and Helichrysum, among others. These essential oils are chosen for their gentle and nurturing properties, making the cream ideal for the delicate and sensitive skin of babies and children. The cream offers various benefits, including deep hydration, soothing properties for skin irritations like diaper rash, and creating a calming bedtime routine. It is free from synthetic fragrances and harsh chemicals, emphasizing safety and natural care for your child's skin. This cream is intended to provide a holistic and gentle skincare solution for babies and children, helping to keep their skin soft, comfortable, and healthy.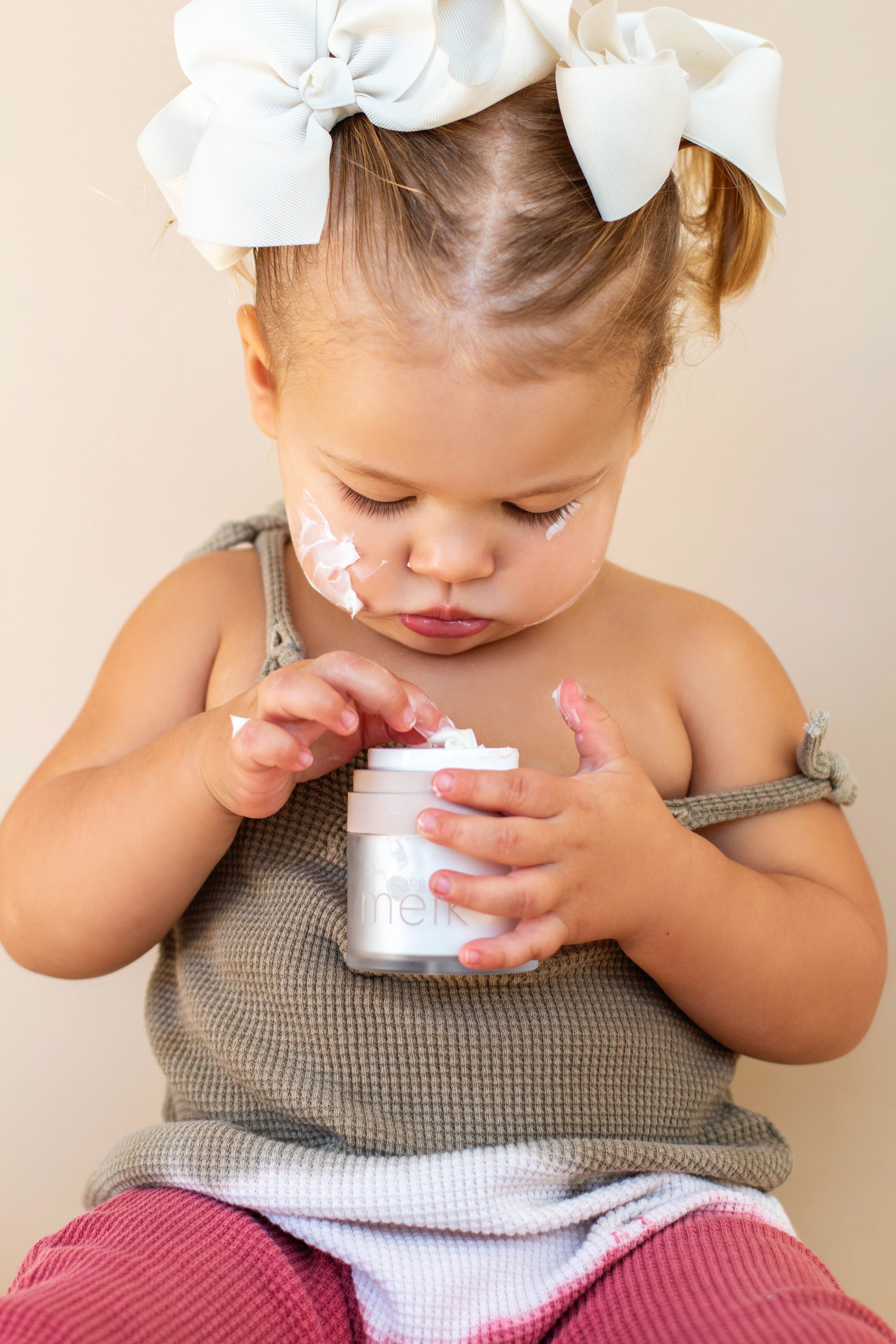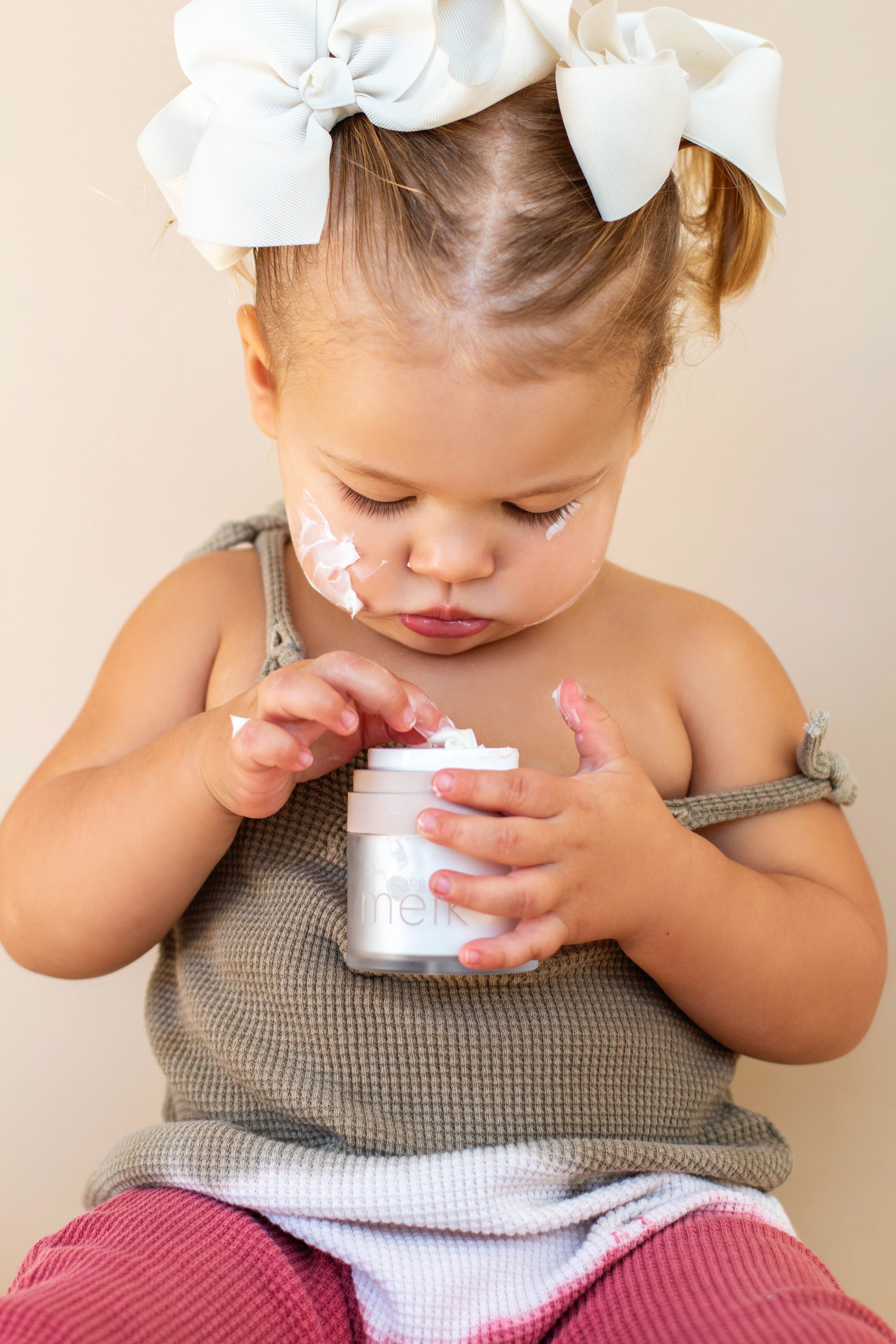 WHAT IT DOES
Calming Comfort: Lavender promotes relaxation, helping your baby sleep better and cry less.
Deep Moisturization: Rose and Sandalwood essential oils keep your child's skin well-nourished and moisturized, reducing dryness and flakiness.
Diaper Rash Relief: Lavender helps ease diaper rash discomfort and support the healing process.
Bug Bite Relief: Lavender is a natural choice to relieve itching and redness from bug bites.
Skin Healing: For those minor scrapes and wounds, Lavender helps accelerate the healing process, reducing pain and redness.
Calming: The subtle and comforting scents of these essential oils create a tranquil atmosphere, perfect for bedtime routines and relaxation..
Eczema Relief: Lavender essential oil alleviate itching, providing comfort to babies and children with eczema.
Safe and Natural: Our cream is suitable for all skin types and ages. It's free from synthetic fragrances and harsh chemicals, ensuring the utmost safety for your precious little ones.
WHY WE LOVE IT
Our Baby and Kids Skincare Cream is a true testament to the power of nature. We've harnessed the magic of natural essential oils, carefully blended to offer your little ones their best skin ever. These powerhouse essential oils work harmoniously to provide an array of benefits, helping your child achieve beautiful, dewy, and soft skin that we affectionately call the "Melky Glow."
gentle hydration
superfood ingredients nourish and quench skin
anti-inflammatory tones and soothes skin
nurturing formulation:
ultra-hydrating helps to promote and maintain healthy skin
natural & clean ingredients| paraben-free | sultate-free | crueity-free| gluten-free | vegan | no synthetic dyes or fragrances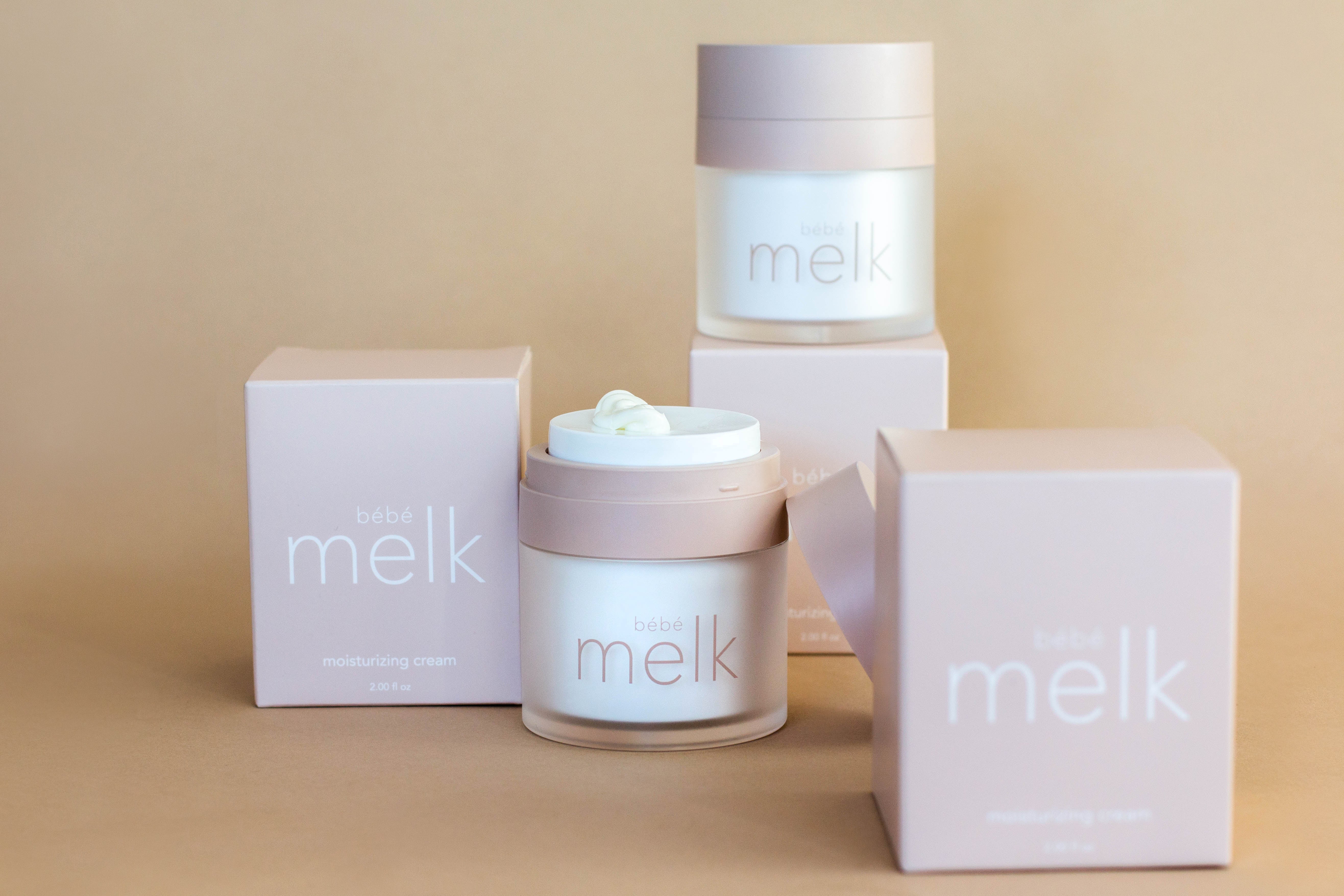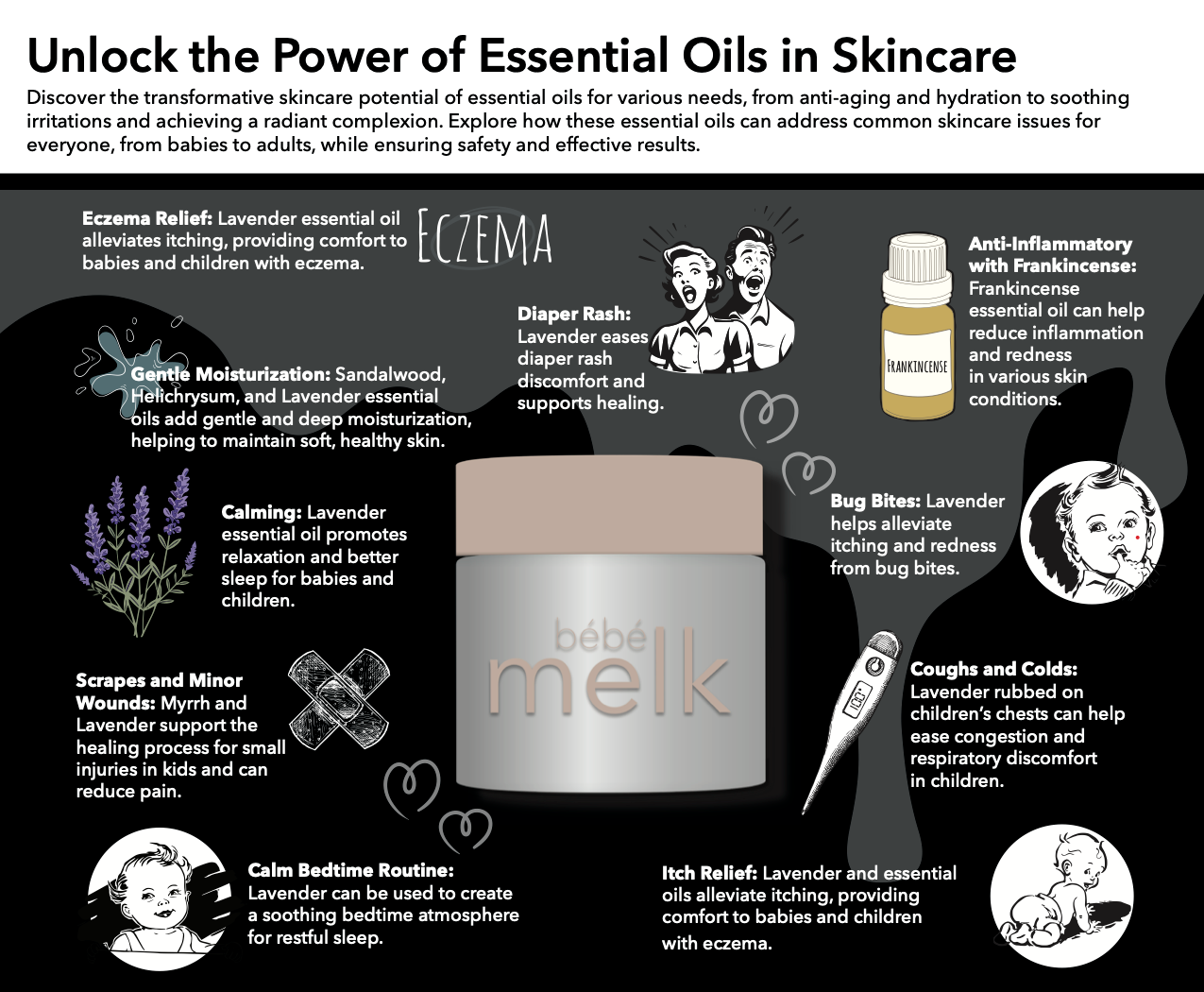 Which skin type is it good for?
What it is formulated without:

Normal
Oily
Combination
Dry
Sensitive

Parabens
Sulfates
Phthalates
How To Use
Ingredients
Reviews
How to use
A little goes a long way. Use morning and night on clean skin.
Water
Glycerin
Olea Europaea (Olive) Fruit Oil
Rosa Canina Fruit Oil
Stearic Acid
Prunus Amygdalus Dulcis (Sweet Almond) Oil
Cetyl Palmitate
Butyrospermum Parkii (Shea) Butter
Cetearyl Alcohol
Vitis Vinifera (Grape) Seed Oil
Cetyl Alcohol
Mangifera Indica (Mango) Seed Butter
Phenoxyethanol
Tocopheryl Acetate
Tetrahexyldecyl Ascorbate
Cera Alba (Beeswax)
Lavandula Angustifolia (Lavender) Flower Oil
Boswellia Serrata (Frankincense) Oil
Aloe Barbadensis Juice
Santalum Spicatum (Sandalwood) Wood Oil
Rosa Damascena Flower Oil
Commiphora Myrrha Oil
Helichrysum Italicum Oil
Fractionated Coconut Oil