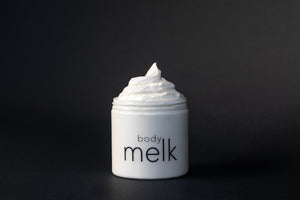 Introducing Our Long-Awaited BODY MELK: A Multi-Purpose Skin Savior!
We are thrilled to announce the highly anticipated arrival of our brand new product, BODY MELK! After three years of intensive research and development, we have created a skincare marvel that is set to revolutionize your daily skincare routine. Get ready to experience the extraordinary benefits of Body Melk, a one-stop solution for all your skin woes.
Body Melk has been meticulously crafted to address a wide range of skin concerns, providing you with a comprehensive skincare solution. Its luxurious formula combines the power of nature and advanced scientific breakthroughs to create a product that is truly magical.
Here's why Body Melk is about to become your new favorite skincare companion:
Inflammation Soother: Whether you're dealing with redness, irritation, or inflammation, Body Melk is here to rescue your skin. Our unique blend of soothing ingredients helps calm sensitive skin, reducing redness and providing instant relief.

Tone Enhancer: Achieving a radiant and even-toned complexion has never been easier. Body Melk's carefully selected ingredients work together to improve skin tone, giving you a more youthful and luminous appearance.

Sunburn Savior: We all know the discomfort of a sunburn. Body Melk comes to the rescue with its nourishing properties that help alleviate sunburns, moisturize parched skin, and promote faster healing.

Eczema Relief: Say goodbye to dry, itchy, and irritated skin caused by eczema. Body Melk's gentle and hydrating formula provides deep nourishment, soothing and repairing damaged skin, and restoring its natural balance.

Diaper Rash Solution: Babies deserve the best care, which is why Body Melk is here to provide gentle relief for diaper rashes. Its hypoallergenic formulation protects and moisturizes delicate skin, keeping your little ones comfortable and happy.
But wait, there's more! Body Melk goes beyond these incredible benefits. It's a versatile product that can be used on various skin concerns, making it a must-have in every skincare routine. From minor cuts and scrapes to dry elbows and knees, Body Melk is your go-to solution for all those unexpected skin issues.
Experience the magic of Body Melk and unlock the secret to healthier, happier skin. Be sure to visit our website or your nearest store to get your hands on this transformative skincare gem.
Thank you for being part of our journey as we continue to innovate and bring you the best in skincare. We can't wait for you to try Body. Melk and witness the remarkable results for yourself.
Wishing you dreamy, creamy skin days ahead!
Warmest regards,
Melkit
---