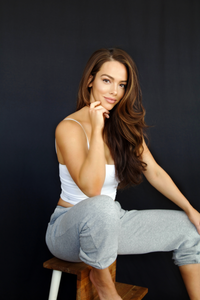 Meet Kamille Cox
We recently connected with Kamille Cox and have shared our conversation below.
Hi Kamille, thanks for joining us today. Coming up with the idea is so exciting, but then comes the hard part – executing. Too often the media ignores the execution part and goes from idea to success, skipping over the nitty, gritty details of executing in the early days. We think that's a disservice both to the entrepreneurs who built something amazing as well as the public who isn't getting a realistic picture of what it takes to succeed. So, we'd really appreciate if you could open up about your execution story – how did you go from idea to execution?
When I was 18 me and my Mom read a book about how the chemicals in our food and topical daily products are affecting our health. We started to look for natural food and products to start implementing into our lives. When it came to skincare we were shocked to find how limited the options were. Not only that, but the options that did exist didn't offer wanted results. Our skin is our largest organ and very porous so the things we put on it do get absorbed into our bloodstream. My Mother, Glenna, has a passion and expansive knowledge of essential oils and she came up with the 'melky' blend of 6 essential oils. The formula she came up with was amazing! We were constantly surprised at how many different skin ailments it helped heal. Not only great hydration and anti-aging but we found it also helped soothe, sunburns, windburns, eczema, atopic dermatitis, baby acne, diaper rashes, cold sores, bug bites, and more. She hand-mixed this for each of her 6 kids, then all their friends, and soon she was hand-mixing this for the entire community!
I was down in LA modeling and acting and remember running out of her cream. I spent over $300 on expensive face creams like La Mer. I called my Mom and said, "Your stuff is better than anything else out there! I can't live without it, everyone needs it"! I remember that being the first time I really thought it could and should be something.
Fast forward 10 years later.. I was pregnant with my 4th baby and was running errands. I remember exactly where I was when I felt a strong impression to move forward with getting this amazing cream to the market. I started talking with my Mom about our partnering and some ideas. What we needed first was a marketable name we could trademark. After days of scribbling ideas, I remember being in the Target parking lot where the name "melk" came to me. I got a whole download of what the full vision could be and the fun ways we could play on "melk". After presenting this to a few people we got some backlash. A year later when the vision was coming to life those same people ended up thinking the brand and name were so cool. This was such a good learning experience for me. No one has your gifts ane vision so therefore do not let other's opinions get in the way of your own truth.
Going from idea to execution after I knew this was something me and my mom needed to do was hard. It was beyond overwhelming to think of all that had to be figured out. We had never started a company from scratch before and had zero experience. The best advice I got was from my brother who had started his own company. He said, "Don't think of everything that needs to be done. Just think of the one next step you can do each day". As I would focus on the one next step it is amazing how things would come together. Consistency really is success. Also, choosing not to care what anyone thinks and knowing that you will make mistakes and fail. Mistakes are how we learn and strength doesn't come without resistance. I often compare starting a company with drinking out of a fire hose. So from idea to execution, it was taking it one day at a time. Listening to my own truth and inspiration and always be willing to learn. Finding manufacturer and entering the research and development phase was certainly the hardest. We had an amazing hand-mixed formula from my Mom. So to try and replicate that took a lot of time. Dealing with a skin product that has no preservatives has also been hard. Figuring out how to stabilize and maintain a clean fresh product is an ongoing learning process, but we know it is so needed in today's market. Coming up with the brand was the most fun because I went to school in graphic design and that is part of one of my passions. So for the next two years until our first launch it was taking it one day at a time and incresing my capacity each day!
Great, appreciate you sharing that with us. Before we ask you to share more of your insights, can you take a moment to introduce yourself and how you got to where you are today to our readers.
About 11 years ago, we started on a journey of learning about how harsh chemicals can affect our health, both orally and topically. After educating ourselves, we searched for the most natural and organic products we could find.
After not finding what we were looking for, we took matters into our own hands. Using an expansive knowledge of essential oils, Glenna created Face Melk. This formula both hydrates and heals using all-natural ingredients. For the past 11 years, she has been hand-mixing her secret recipe for friends and family who can't seem to get enough. Melk is Women founded and Women operated.
Secrets this good can't be contained forever. It's time to introduce Melk to the world. Currently, we offer two products:
Face Melk (Our OG)
Body Melk (Which we just launched!)
It is for EVERYONE. Men, Women, Kids, & Babies.
This fall we have 2 new products coming out!!
Melkit is paraben-free, sulfate-free, phthalate-free, cruelty-free, gluten-free, vegan, and has no synthetic dyes or fragrance
We are thrilled to introduce you to Melkit, the natural skincare brand that cares for your skin with clean ingredients and the power of essential oils. Our mission is to provide you with effective, safe, and environmentally friendly skincare products that address a wide range of skin concerns. Let us take you on a journey through our incredible line of products designed to help you achieve radiant, healthy skin.
 Embrace the Power of Nature 
At Melkit, we believe that nature holds the key to nurturing and rejuvenating your skin. That's why we meticulously craft our products using only natural, clean ingredients sourced from sustainable and ethical practices. Lavender, Rose, Frankincense, Myrrh, Hylichrsium, and Sandalwood are the foundation of our formulations, each chosen for their unique benefits and potent properties. These precious essential oils work in harmony to promote healthier and more radiant skin without harsh chemicals or additives.
 A Solution for Every Skin Concern 
We understand that each person's skin is unique, and it requires specialized care. That's why Melkit has developed a simple one step product that cater to various skin needs:
 Anti-Aging Elixir: Our powerful anti-aging cream, enriched with Frankincense and Myrrh, helps combat fine lines and wrinkles, leaving your skin looking firm and youthful.
 HydraQuench Moisturizer: Infused with Lavender and Rose, this ultra-hydrating moisturizer provides the ultimate nourishment, replenishing your skin's moisture barrier for a smooth and supple complexion.
 Acne Defense Tonic: Our cream is a specialized toner, featuring Sandalwood and Hylichrsium, tackles acne-prone skin by reducing inflammation and promoting a clear, blemish-free appearance.
 SolarSoothe After-Sun Balm: Soothe sunburns and windburns with the healing power of Lavender and Myrrh, providing instant relief and aiding in the skin's recovery process.
 Eczema & Dermatitis Relief Cream: Harnessing the calming properties of Lavender and Frankincense, this cream alleviates eczema, atopic dermatitis, and other skin irritations, restoring balance to your skin.
 GentleCare Diaper Balm: Keep your baby's delicate skin protected with our gentle diaper balm, enriched with Rose and Myrrh, preventing and soothing diaper rashes effectively.
 ColdSore Recovery Serum: Say goodbye to cold sores with our targeted serum, formulated with Sandalwood and Hylichrsium, to speed up the healing process and reduce discomfort.
 BugBuster Balm: Soothe bug bites and stings with the natural goodness of Lavender and Myrrh, calming itchiness and irritation.
And so much more! We continue to research and develop innovative products to address your evolving skincare needs.
 Melkit Cares for You and the Planet 
Our commitment to clean, natural ingredients extends to our dedication to sustainability. At Melkit, we strive to minimize our environmental impact through eco-conscious packaging and responsible sourcing. Together, we can contribute to a greener future while caring for our skin's health.
 Discover the Melkit Difference Today! 
Experience the transformative power of nature with Melkit's range of natural skincare products. Embrace a radiant, healthy complexion while supporting sustainable practices and ethical skincare.
Visit our website at melkit.com and sign up for our newsletter to stay updated on new product releases, skincare tips, and exclusive offers.
Join us on this journey to healthier skin and a brighter future. Together, let's bloom with Melkit!
---